Samsung Galaxy S: How Does It Measure Up to the Competition?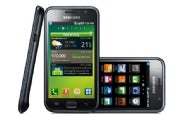 This spring, Samsung introduced the Samsung Galaxy S, a super Android smartphone to rival the HTC EVO 4G, the various Droids (both Motorola's and HTC's) and of course, the iPhone 4. Versions of the Galaxy S will be making its way to U.S. shores this summer in four different form factors to all four major U.S. carriers. I was lucky enough to get my hands on the original European Galaxy S and did some quick side-by-side comparisons with the other hot phones of the summer.
Looks like Rogers is bringing in the Samsung Galaxy S with Android 2.1 onboard. And best of all (for my eyes and hands at least) is it has a 4 inch screen. Absolutely no idea what the price will be but this phone has some nice specs. I will need to get my hands on one though to really give it a yes/no.
What can we say about this Android smartphone? Specs. It has Wi-Fi and GPS. 16 bit 16 million color 800×480 pixel Super Amoled WVGA screen. Multi-touch. 5.0 mega pixel camera. 16 gig of internal memory plus microSD expansion slot (max 32G). It is light (125 grams). 1 Ghz. processor. And an FM radio (if you get tired of your own MP3 when you are commuting).
All sounds good, but as I say I need to see, touch, and use one to give a more detailed report. And I hope to do that for you soon.